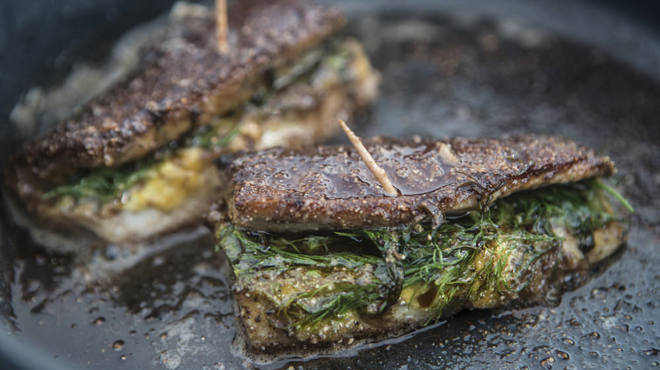 This recipe is about two Nordic classics - the herring and the open-faced sandwich. The silver coloured herring has been an important commodity and a staple in the Nordic diet for centuries, and still has a central place in Nordic cuisine today.
Herring is both a delicious and healthy food and feature of many lunch and dinner meals on festive occasions such as Easter and Christmas.
Herring is also a classic topping on the open-faced sandwich – in Faroese called smyrjibreyð. In this recipe, the herring is garnished with pickled rhubarb that add acidity to the fatty flavours of the fried herring.


Author

: Gutti Winther

Category

: Open-faced sandwich, lunch, dinner

Cuisine

: Nordic

Yield

: 2 servings
Ingredients
1 large butterfly fillet of herring or 2 small (300 gr.) When butterfly filleting you cut along the belly of the herring to open it flat and remove the backbone – giving you a double fillet shaped like a butterfly.
4 tablespoons of sweet mustard
Stalks of fresh dill
1 dl rye flour
1.5 dl vinegar
150 gr. sugar
2 stalks of rhubarb
1 shallot, finely sliced
2 radishes
2 slices of rye bread
50 gr. butter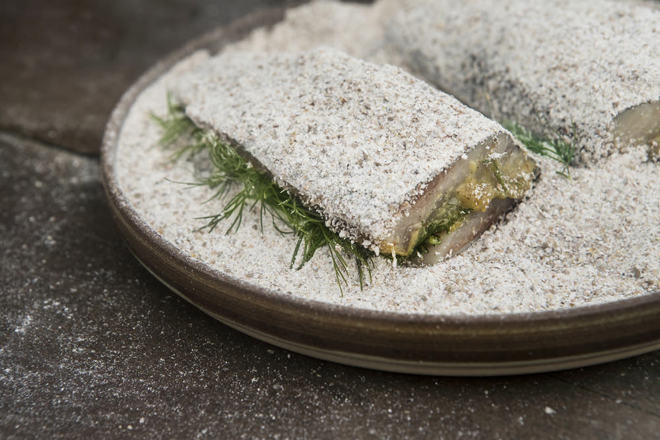 Instructions
Start by pickling the rhubarb in advance. Cut the rhubarb stalks into thumb-size chunks. Pour the vinegar and sugar into a small pan and bring to the boil. Add the rhubarbs and turn off the heat. Pour the rhubarb and liquid into a jar, put a lid on and let it soak for about two hours. The rhubarb will still have a crunch.
Salt the fillets and spread a thick layer of mustard on the flesh side. Top with some stalks of dill and fold the fillets. If you have a big herring, cut the fillet in half so you get two fillets. Coat the folded fillets in rye flour and fasten the opening with a toothpick.
Slice the radishes very thinly on a mandolin iron and put the slices into ice water.
Melt and brown the butter in a large pan. Fry the slices of rye bread in the butter on both sides until the bread gets a slight crunch. Frying brings out the nutty flavours of the rye bread. Place the bread on a serving plate.
Fry the herring fillets in the butter for 4 to 5 minutes on each side until the skin is golden and crisp. Baste with the butter while frying, as this will keep the herring moist.
Spread the slices of rye bread with mustard. Place the fried herring fillets on the bread and remove the toothpicks. Top with the pickled rhubarb and slices of radish and shallot, and garnish with dill.